We are creating a prototype of a place where everyone can see and try a combination of tradition with the latest technology in practice. We are building an example of an autonomous community supposed for sustainable and fulfilled living.
The main goal is to show the combination of natural principles with high-tech science in a form that is open for the general public so that each visitor can take on new knowledge and experiences. It is a concept that combines a research center, indoor and open gardens, an educational center, a museum, a science park and a place to relax and fun.
It is based on the idea that everyone learns best through their own experiences and we use informal methods while trying to allow all visitors to try everything out and come up with the principle that things work. There are workshops like painting, pottery, blacksmith, carpenter, electronics, and visitors can even make and take their products.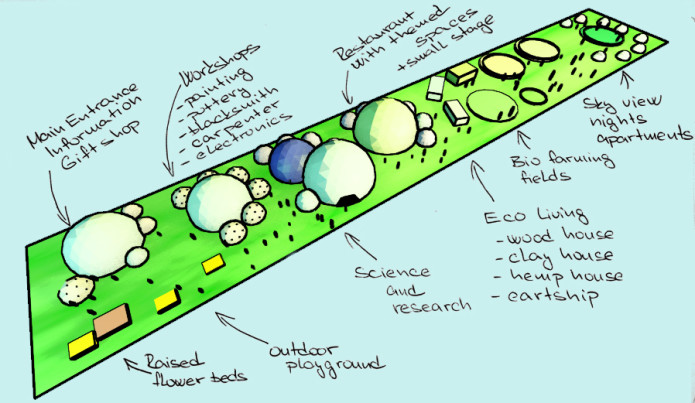 This project would be also inspiration for others and with some modifications would be build up everywhere on Earth. We don't want to push somebody somewhere. We want to provide space and tools for creative people because we believe that ancient deficiencies such as wars, poverty, hunger, debts and unnecessary human suffering are perceived as inevitable, but it is unacceptable. It is high time to learn from these shortcomings, stemming from ignorance and false faith.
It's time to start working together and not competing.
Elize offers space for regeneration and relaxation in various forms. There are spaces suitable for smaller concerts, lectures, yoga or meditation exercises.
Yet man is a creative creature and for many of us, relaxation is creation. Painting, pottery, music, wood or metal products. Various artistic small items as well as technological equipment.
We offer space and the possibility of realization for people with common interests. There are various craft but also hi-tech workshops, atelier, music studio as well as covered gardens with year-round possibility of growing vegetables and herbs.

Year-round use brings challenges in the form of the need to find different technical solutions from the actual overlapping of spaces, through the provision of energy, thermal comfort, water, waste and everything that proves necessary.
The current market offers a number of solutions but our aim is to connect and possibly design and produce the most suitable components for maximum efficiency.
Our goal is to achieve energy independence and therefore we focus on research and development in Elize such as solar and wind power, energy storage, space heating and cooling, lighting, irrigation, but of course also equipment such as electric bicycles, hovercraft, decomposition equipment. water, 3D printing, virtual reality or robotics.